Delightful cups made of chocolate, filled with a dairy free whipping cream and topped with fresh blueberries and raspberries.
SHARE THIS RECIPE!
Berry Chocolate Cream Cups
Instructions
place a can of full fat coconut milk in the fridge overnight with the lid open. The coconut milk will thicken and separate from its water.

melt the chocolate chips slowly in a double boiler over simmering water. If your chocolate is too thick, add a little coconut oil and mix

coat the bottom and sides of each candy cup with about 1 tablespoon of chocolate. You can use any style or size of candy cup. I prefer the silicon variety since they are sturdier, but paper or foil cups will also work.

freeze the cups until the chocolate is firm. Once firm, carefully peel away the candy mold from the chocolate

return the chocolate cups to the freezer and go on to making the coconut whipped cream. Remove the can of coconut milk from the fridge and scoop the solid coconut cream that forms on the top of the can and place it in a bowl. Be careful not to mix the solid coconut with the water in the bottom of the can.

add the vanilla extract and whip the coconut with a hand mixer until fluffy

to fill each chocolate cup I used a piping bag with a star nozzle. Alternatively, you can use a ziploc bag and make a small cut on the corner of the bag or simply fill your cups with a spoon.

garnish each cup with fresh blueberries, raspberries and mint sprigs

serve immediately or keep refrigerated
Recipe makes 8 chocolate cups.
Here is the silicone cups I used to make this recipe: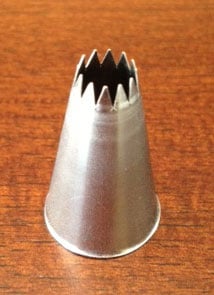 Here is the cake decorating set I used on this recipe. I used tip #32 to make these cookies: