There are two secrets to making the perfect mousse: One is the quality of the chocolate you use and the other is giving it proper aeration so that it is light in texture. There is no finer chocolate then a chocolate made with a high percentage of cacao butter. The cacao butter gives the chocolate that shin and that incredible smoothness that melts in your mouth when you take a bite. Because of this I decided the best option for this mousse would be to make the chocolate from scratch using cacao butter, raw cacao powder, honey and vanilla extract. If you can find high quality dark chocolate you can definitely substitute it in this recipe.
The other secret I mentioned above is giving the mousse air. To get that aeration, we need to incorporate as much air as possible into the egg whites. You can use a food processor or a mixer to whisk the egg whites to make a meringue with stiff peaks. Then, gently folding the merengue with the other ingredients will assure you that your mousse retains the maximum amount of that air.
This Chocolate Banana Mousse recipe is also dairy free and Paleo, and contain only 2 tablespoons of raw, unrefined honey and no other refined sugars.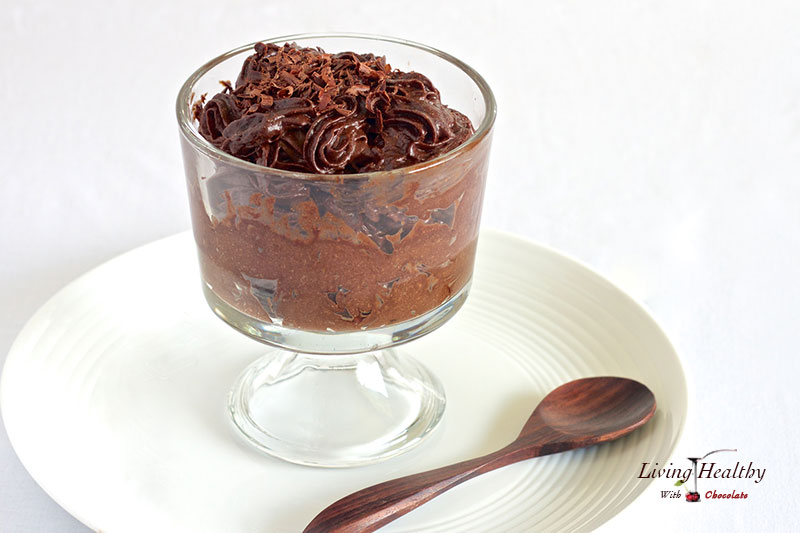 SHARE THIS RECIPE!
Chocolate Banana Mousse (Paleo, Dairy Free)
Instructions
melt the cacao butter in a double boiler over simmering water

once melted, mix the cacao powder, raw honey, vanilla, almond butter and salt until smooth

in a separate bowl, mash the bananas and mix in 2 egg yolks (reserve the egg whites)

mix the banana mixture with the chocolate until all is combined and smooth

using a hand or stand mixer, whisk the egg whites until stiff peaks form.

fold a small amount of the egg whites into the chocolate mixture. Then gently fold in the remaining egg whites until no white streaks remain. Do this gently to avoid deflating the mixture.

transfer to a serving dish and chill in the fridge for a couple of hours
Recipe serves 2 people