Say hello to my newest brownie recipe.
These brownies are flourless and even contain no oil or butter.
The secret to the chewy, fudge consistency: cashews and flaxseed meal!
They are also rich, dark and everything you would want a savory brownie to be.
Give these a try and let me know what you think in the comments below ↓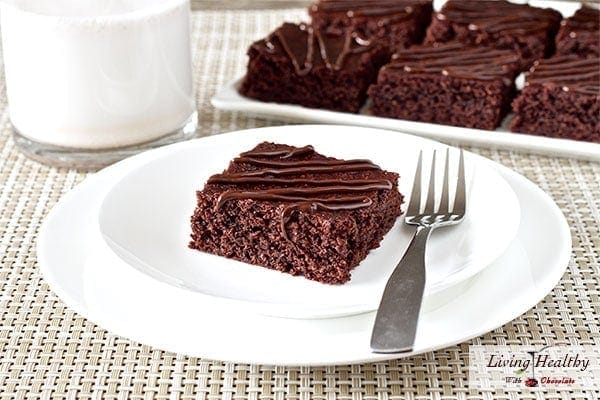 SHARE THIS RECIPE!
Chewy Fudgy Homemade Brownies (paleo, gluten-free)
Instructions
preheat the oven to 350°F

line an 8x8 baking pan with parchment paper, covering all four sides of the pan

in a food processor or high speed blender, process the cashews and water until creamy, scraping the sides as needed. Make sure you end up with a very creamy paste and there are no chunks of cashews remaining.

in a bowl whisk the egg, then whisk in the cacao, flaxseed meal, honey, vanilla, baking soda and salt. Mix in the cashew butter until everything is well combined. Batter will be thick.

pour batter evenly onto the bottom of the prepared baking pan and bake until a toothpick inserted into the center comes out clean, approximately 20 minutes

set pan on a wire rack to cool then cut into squares

optional: melt about 1/4 cup dark chocolate in a double boiler and drizzle over the top of each square. I do this by using a ziplock bag and cutting a small whole on one end. Store in an airtight container at room temperature or refrigerated.