Chocolate-Caramel Macadamia Nut Bites • Paleo, gluten-free,  dairy-free, soy-free, refined sugar-free
Lately, for some reason I have been craving chocolate and macadamia nuts together. A few times last week, I caught myself eating handfuls of 70% dark chocolate chips and macadamia nuts and of course that is not good and should only be an occasional treat. So I decided to make these little bite size chocolates so that it would be easier for me to control how much I was eating. I made a small batch and used these cute mini muffin silicon baking cups I bought a while back. If you don't have these silicon cups, you can also use mini paper baking cups and arrange them in a muffin pan so they are easier to work with.
While preparing the chocolate, I got inspired and thought about these delicious chocolates that are readily  available here in Hawaii by Mauna Loa made with chewy caramel and macadamia nuts. I decided to do the same and I made my own version of caramel using raw honey and full fat coconut milk. The caramel added some extra sweetness and chewiness to these light bite size chocolates. Delicious!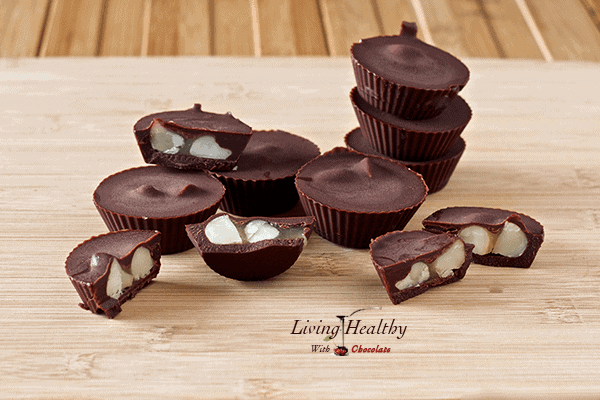 Recipe yields 10 bite size chocolates. Keep refrigerated.